Monday 22 February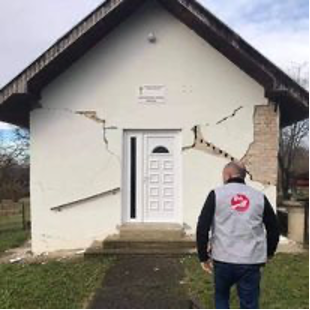 Which is worse – war, earthquake or pestilence? When I married Danijel and moved to (then) Yugoslavia in 1980, I had no idea I would experience all three.

I like to be in control. I am a very organised person in my work and home life. So I need to have a workable response to unexpected external influences. This pandemic is different to any threat I have previously experienced. How?
War and earthquakes are geographically limited. When we lived through four years of war in the 1990s, there was the option of leaving. Simply crossing the border with Austria would have put us beyond the reach of bombs and shells. Family and Christian friends in any number of countries would have taken us in and helped us. When earthquakes around New Year destroyed three towns and dozens of villages in Croatia, we were outside the affected zone. Even if our house had fallen down, we could have packed up what was left and gone.
Now, for the first time, there is nowhere to go. Nowhere is safe. Covid-19 is everywhere. There is an overwhelming sense of helplessness. 
But God is everywhere too. "Where can I go from your Spirit?" says the psalmist. In the heavens, in the depths, in the farthest places, God is there. "Even the darkness is not dark to you" (Ps 139:7, 12). For Christians, this puts a different perspective on living with the hostile forces of humanity or nature. They are still there, but so is God. 
Janet Berkovic
Monday 15 February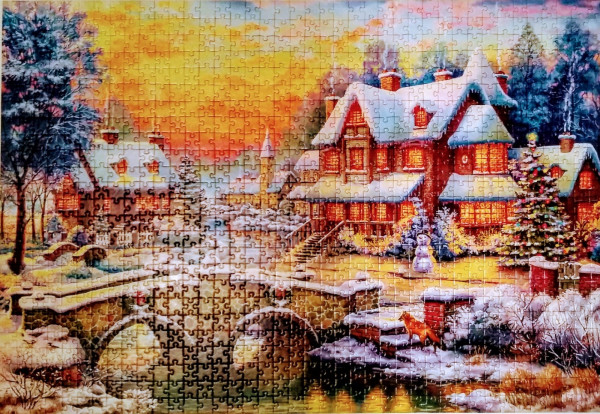 This year putting together my 1,000 piece Christmas jigsaw, working from the bottom upwards, felt a bit like a metaphor for Christian life. 
It meant persevering through the bright areas, the dark frightening areas, the easy obvious ones and the misleading frustrating ones, the frequent discouragement giving rise to lack of trust when conviction set in that pieces were missing. 
Then, reaching the sky at the top, confidence rose as the final luminous sky pieces did fit together and the puzzle was completed to perfection! I recalled a striking reassuring truth that recently came up in an "Inspire" ladies' meeting – the realisation that when we get dismayed at our failings, especially our lack of trust, in our walk with Jesus, it's important to remember that He doesn't focus on our shortcomings, but He constantly sees in us the person we will become when we finally mature into perfection in His eternal kingdom, or as the apostle Paul concisely puts it in Romans 8:
" there is now no condemnation for those who are in Christ Jesus, because through Christ Jesus the law of the Spirit of life set me free from the law of sin and death." 
Hallelujah!
Linda Burrows
Monday 8 February
And we know that in all things God works for the good of those who love him, who have been called according to his purpose. 

I've been thinking about what these verses mean in our present context. They're so familiar that they can even sound trite; but what do they really mean?
I think this: that whatever circumstances you find yourself in, whatever enters your life whether good or bad, whatever anyone does to you whether intended for good or ill, all of it will be used by God in His sovereignty to work out his loving purposes in our lives, and we will experience it as joy exactly to the extent that we love him.
And that last bit's the rub. See, even if we are ill-disposed towards God, we creatures are still subject to His sovereignty, but will not experience it as joy, even though it's actually for our good (and His glory). But what joy awaits if we yield to Him!
It's a call to situate our joy and hope in Him. And to trust Him to bear the weight of our lives, because He alone can, and to allow each of life's ups and downs to press us towards Him and the ultimate good of knowing Him, knowing true life and freedom in Him and ultimately sharing in His glory forever.
Paul Nettleship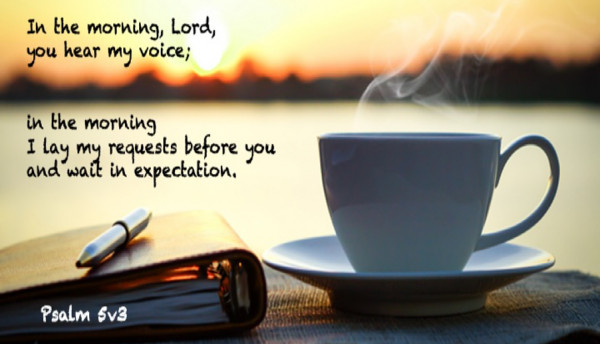 Monday 1 February
I was thinking recently about the life of Gideon in the Old Testament (Judges 6 & 7). Do you recall how, when God first called him, he asked for confirmation of God's message to him? He laid out a fleece and asked that the dew fall on it and not the surrounding ground and then, just to make doubly sure, he asked that the next night the fleece would be dry and the ground wet.

Later Gideon prepared an army and God told him to whittle it down from over 22,000 men to just 300 and with that small group, through God's provision, Gideon won a mighty battle against the Midianites who had terrorised God's people for years.
Two things in particular struck me about my prayers and our responsibility to move forward with what God has given.
Firstly - We should pray expecting an answer. Gideon woke up each day and went to look for God's answer and we ought to do the same. James 4 says we don't get because we don't ask or we don't ask for the right reasons and Jesus himself said in Matthew 6&7 - seek Him and the things you worry about will be resolved, ask and you will receive
Secondly - when we do understand God's will for our lives, we need to move forward in the faith and trust that he will provide. Gideon didn't, I think, go in to battle looking over his shoulder at the men he left behind, wishing he had more answers or more control, he just moved on with God at his side. As Hudson Taylor said – God's work, done in God's way, will never lack God's supply.
Some verses in Psalm 5 bring these thoughts together and perhaps you can meditate on them in the week ahead:   
Hear my cry for help, my King and my God for to you I pray.
In the morning, Lord, you hear my voice;
in the morning I lay my requests before you and wait in expectation.
I, by your great love, can come into your house;
in reverence I bow down toward your holy temple.
Lead me, Lord, in your righteousness..... make your way straight before me.
Surely, Lord, you bless the righteous;
you surround them with your favour as with a shield
Paul Carey