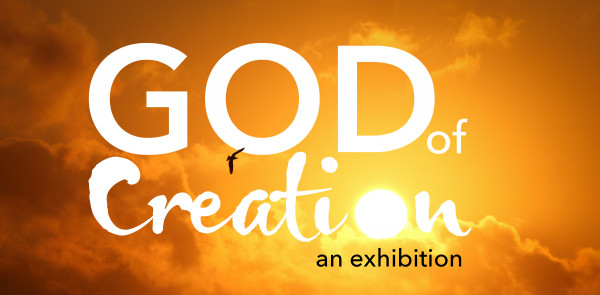 Welcome to the online version of our 'God of Creation' art exhibition
Over 40 pieces of art are represented here - so keep scrolling down to the end. 
Although we have tried our best to represent them here - they were so much better seen in the 'flesh'! Sorry you have missed the opportunity to see them!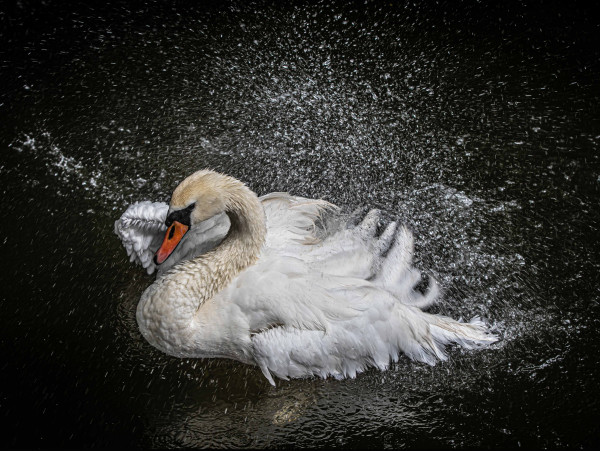 SWAN - Angela Rogers  

He will cover you with his feathers,  and under his wings you will find refuge  Psalm 91 verse 4. This image spoke to me of the strength of the swan's wings. I took this during lockdown in April, just as cygnets were being born. Swans are often seen with their babies riding on their back, this reminded me of God's care for us how we can find refuge in Him, especially during these challenging times.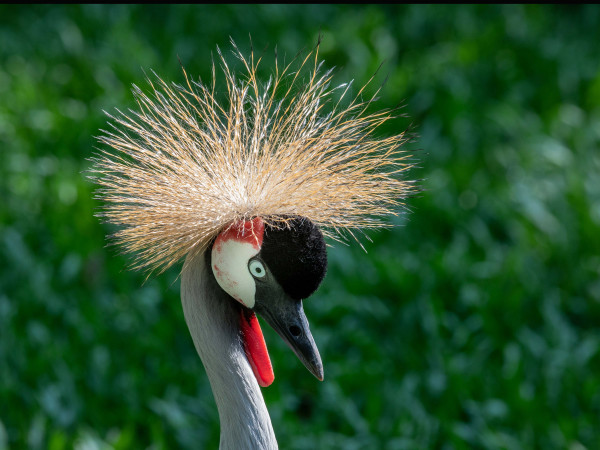 CROWNED CRANE - Angela Rogers
Look at the birds of the air; they do not sow or reap or store away in barns, and yet your heavenly Father feeds them. Are you not much more valuable than they? Matthew 6 verse 26. What a hair style, note the black tips on the ends of the crown, the beautiful furry texture on the top of his head, then the complimentary colours of the red and the white. This certainly has the "wow factor" for me.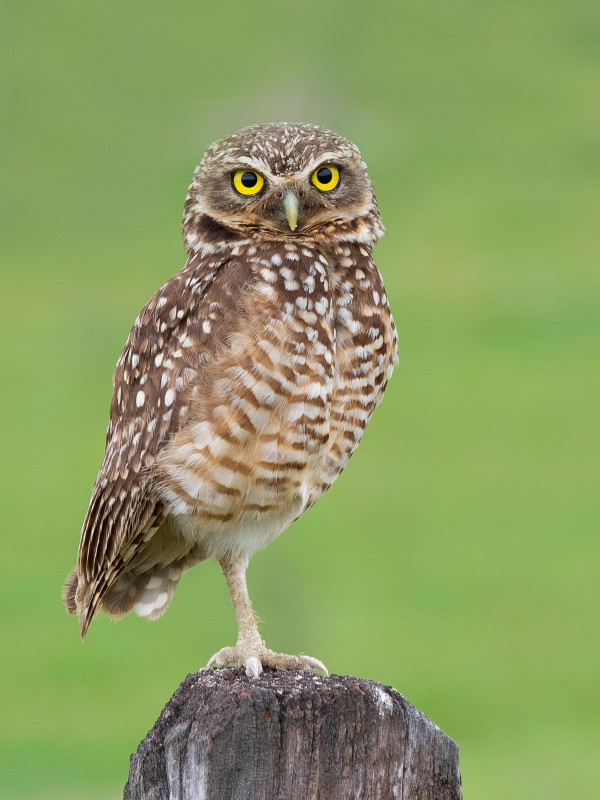 BURROWING OWL - Angela Rogers

This owl was 2 metres away from her babies in a field. In her feathers there is such beauty in the design of the patterns and textures. The colour tones too are stunning. "What a wonderful creative God we have"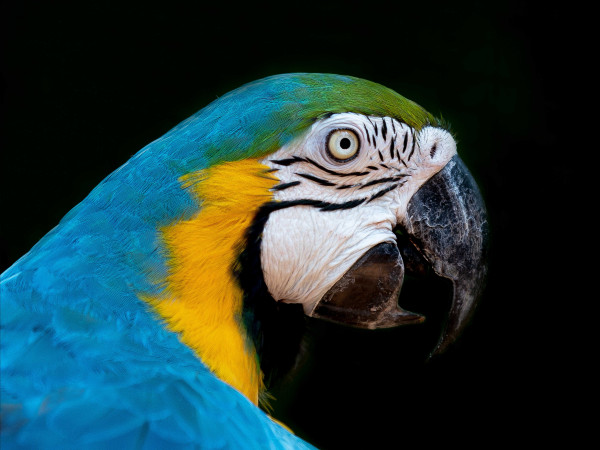 MACAW - Angela Rogers

The vibrant colours and detail of this macaw are awesome. Each one is unique in its design. Even the tiny black feathers around the eye speak to me of the indescribable God who made the universe and all that is in it.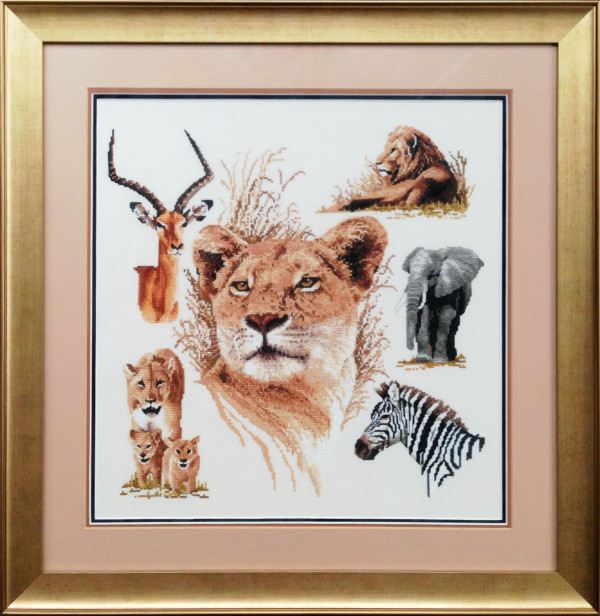 OUT OF AFRICA - Ruth Newham
God made the wild animals according to their kinds, the livestock according to their kinds and all creatures that move along the ground according to their kinds. And God saw that it was good.
Genesis 1v25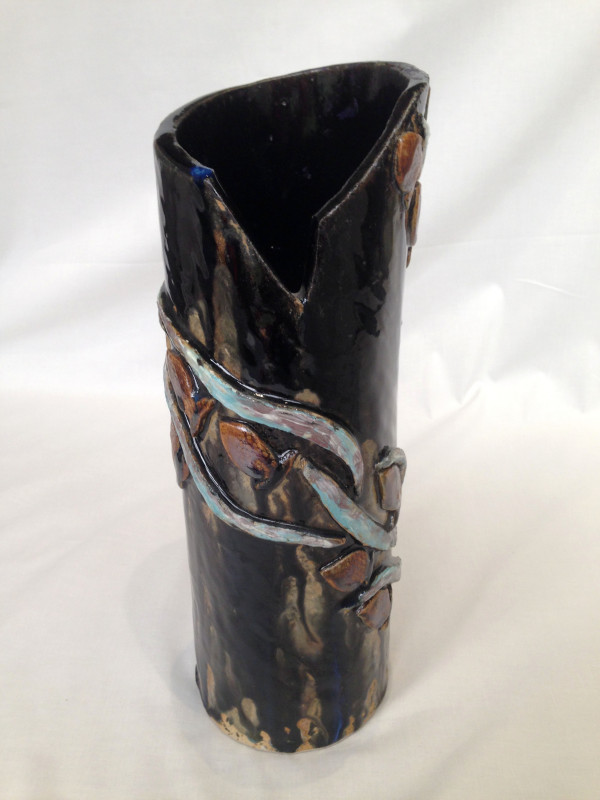 FISH IN THE DEEP - Rachie Ross  
'Let the water teem with living creatures…' Approximately 95% of fish populations are fully used, over-used or in crisis as a result of overfishing and warmer waters due to climate change. If we carry on as we are, there will be no fish left in the sea by 2050. How old will you be in 30 years time? How old will any children and grandchildren be that you love? 

Hundreds of millions of people rely on fish to live, not to mention whales, dolphins, penguins, polar bears and every other animal that shares the oceans. No other species over-fishes. No other species has the power, voice or language to speak up about this disaster.
'God saw that it was good'. What have we done?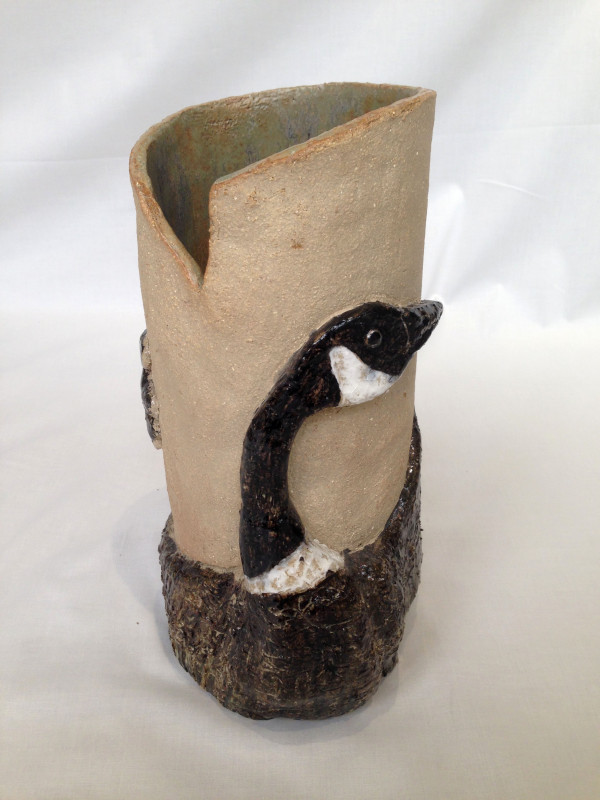 CANADA GOOSE POT - Rachie Ross… let birds fly above the earth across the vault of the sky…Ten years ago, whilst walking across Romney Marsh, I saw hundreds of Canada geese grazing near the shingle lakes. One was startled and made off, the rest followed in their iconic V formation.  

It struck me with such force: how do they communicate the need to fly from danger or look for new feeding grounds? Which goose leads the way and why do the others follow behind? How do they navigate safely at speed? I heard a voice (who I'm sure was God) say 'I need my people to sound the alarm for climate chaos.' I was rooted to the spot. How could we sound the alarm? Would anyone hear us and follow? How could we communicate this? Would we be able to lead others to safety? 'God saw that it was good' What are we willing to do for Him?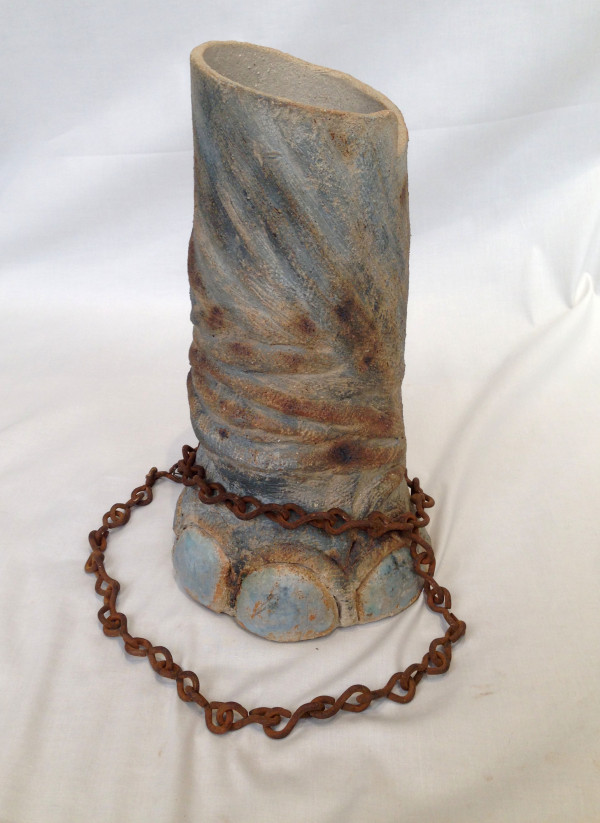 ELEPHANT FOOT - Rachie Ross Let the land produce living creatures: the livestock, the creatures that move along the ground, the wild animals each according to its kind...
Elephants symbolize beauty and social communal groups, full of intelligence and curiosity. They are also grossly oppressed by humans, poached for ivory and hunted because they sometimes clash with human habitation. The African elephant will be extinct completely by 2040 if we don't stop and Indian elephants are under dire pressure too (WWF report). How old will you be in 20 years time? 
What is wrong with us? We seem unable to share the earth as we were told to, and we seem hell bent on destroying the planet that every species, including elephants and ourselves, rely on. Elephants represent thousands of species that we have pushed to the brink because we wrongly view ourselves as the pinnacle of God's creation who OWN the rest. We would do well to remember we came very late in the evolutionary time-line and that stewardship means we are managers and carers for the owner, who is God.  God saw that it was good. What have we done?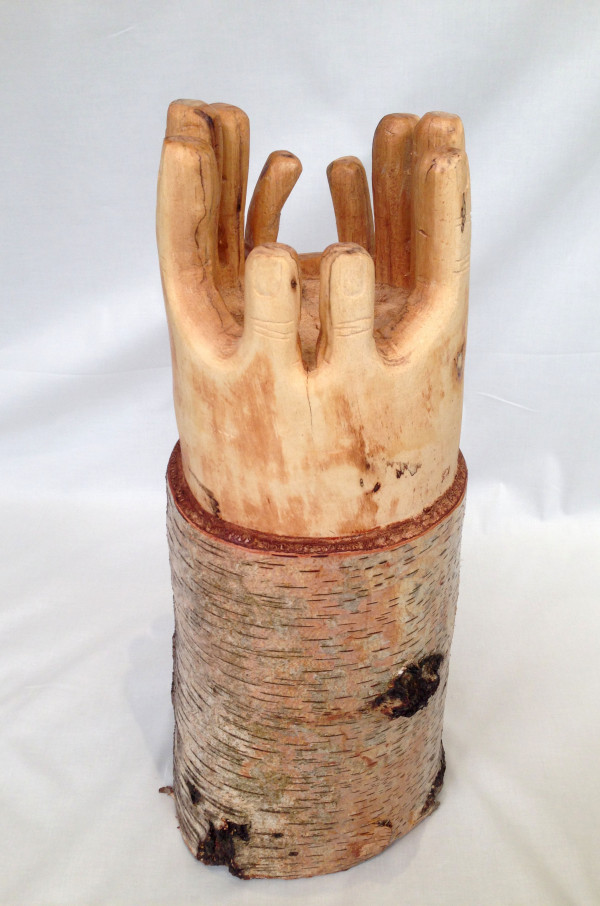 HANDS - Neville Pearson
These hands speak to me of a person being open and ready to receive from our God of creation, that is to receive his love, friendship, power and gifting. To others, the Hands might indicate a person ready to receive anything; be it, food, friendship or even a ball.
Also, the Hands rising out of the log represent the dependence of Gods most complex creation, humankind, on the rest of a simpler creation.
The sculpture is carved from a log of silver birch because it was reasonable easily found and with the tools I have, fairly easily to carve. The curvature of the log lent itself to the curved form of two hands held close together.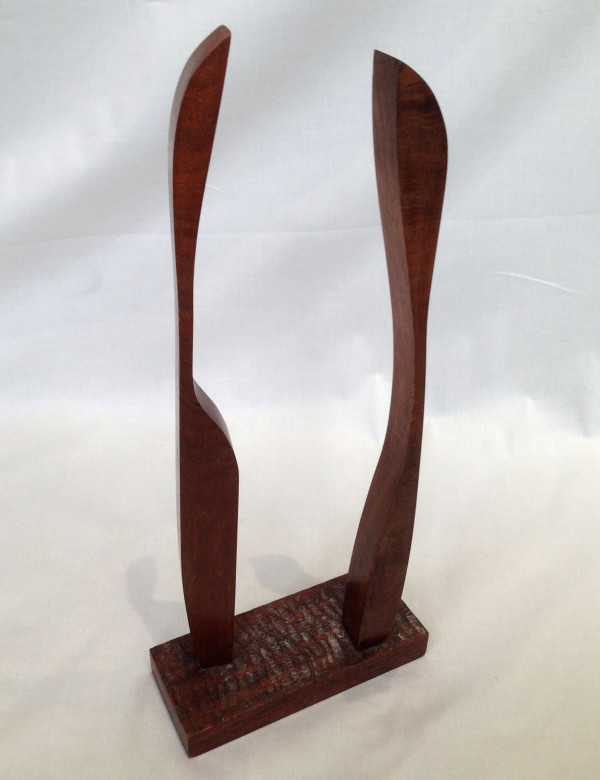 A PAIR OF CRANES - Neville Pearson  
Birds are part of God's creation. They come in all sorts of shapes and sizes and some of them are beautifully coloured. These do not particularly look like cranes or any other bird for that matter but I have always called them cranes.
The basis of this sculpture happened rather by chance. At college I was making a contemporary standard light out of walnut, my favourite wood. I cut out the legs for the light and there were a number of off cuts, and two of the largest looked rather like birds. I mounted them on a block of walnut that I carved to look like ripples in water.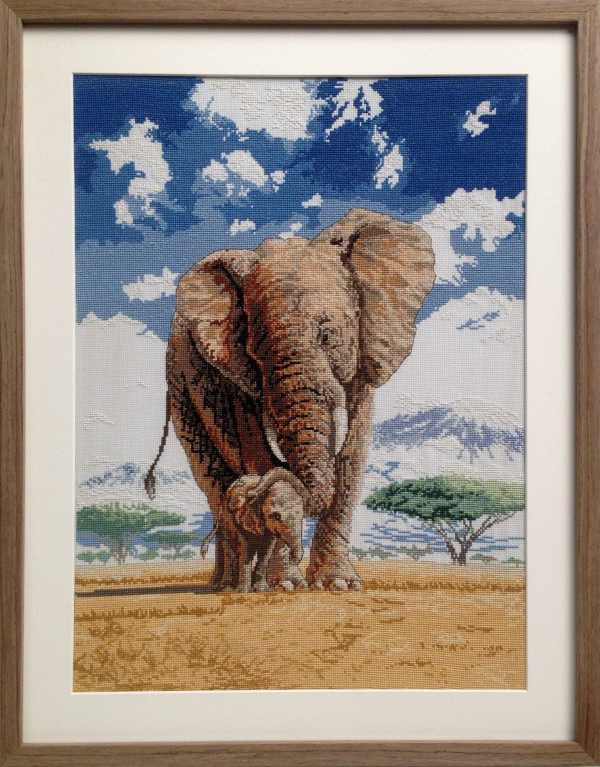 MOTHER ELEPHANT AND BABY - Sandra Michie

Nicki Hunt's father Geoffrey Keen visited us in Zambia, when Nicki and I were working there. Together we really enjoyed travelling through the open savanna of a game park and watching the variety of animals in their natural environment. In particular we watched elephants living their normal lives, and marvelled at the family care they gave to their young. 
In 2002 Geoffrey gave me this delightful picture in kit form. It has given me much pleasure, and taken until this year to complete, working intermittently when there was time and with suitable light for the fine work.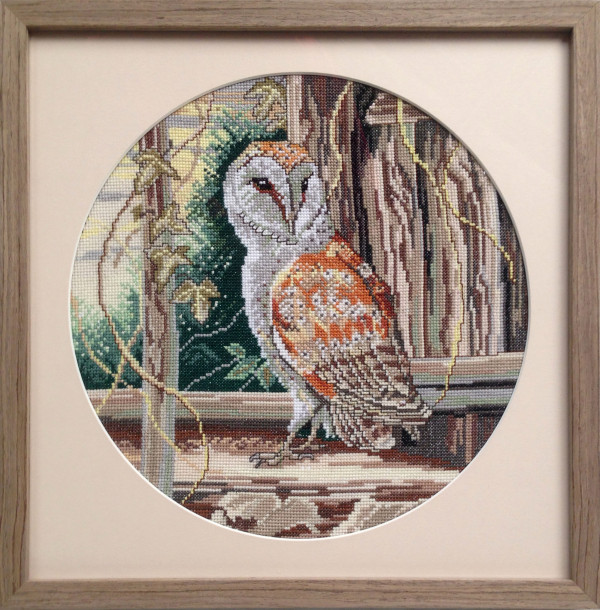 BARN OWL - Sandra Michie - This picture was sent in to WRAP, a recycling centre, as an opened and incomplete set. It arrived as a plain piece of Aida material, with a printed page showing the picture in colour and a graph to follow. The original had been opened and all threads, etc. removed. All the coloured threads used were also recycled from those left over from previous different works done by a variety of people. From the beginning it was a challenge. The embroidery provided a pleasant occupation whilst on holiday, then during Covid-19 lock down. Someone asked how many stitches were in it. The answer amazed me. Can you guess how many stitches it took to complete this picture?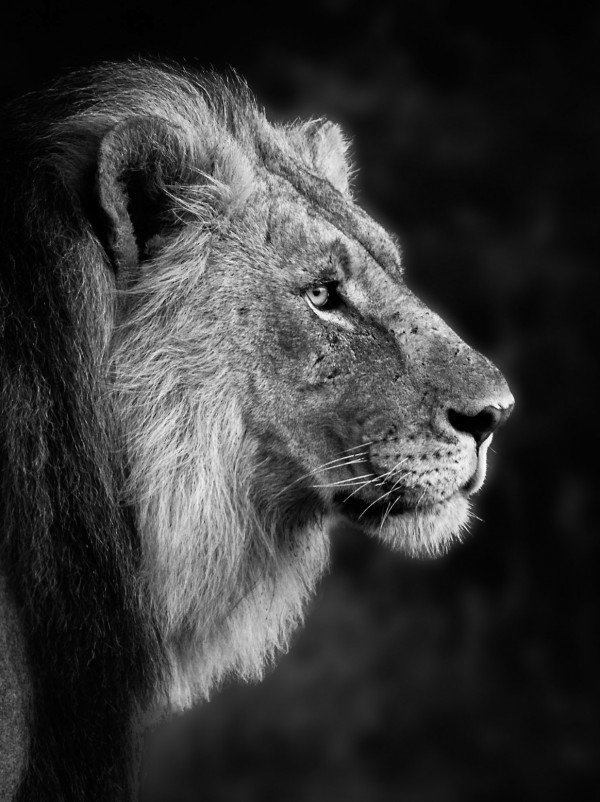 MADIKWE LION - Lew Wasserstein
Shot in the well managed Madikwe game park in South Africa, bordering Botswana.    The area was farmed unsuccessfully but in 1992,  after extensive research,  the South African Government declared it a national park to economically uplift this otherwise poor area.  The area was repopulated in an operation codenamed Phoenix with over 60 species of mammal previously local to the area and now comprises over 700 sq.km.  The project has been an outstanding success and now boasts 30 lodges.  Tourism is properly controlled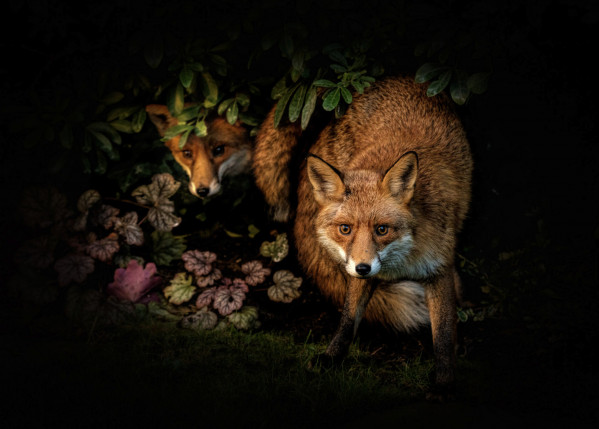 FOXY - Lew Wasserstein
I was having an early breakfast in our conservatory when I noticed what seemed to be a new bush in our garden. Slowly realised it was not a bush but two foxes! Dashed for my camera and took the pictures through the glass - thought if I went outside they would be startled and run off.  They looked equally startled and stared right back. I didn't realise they were coupled together and couldn't move.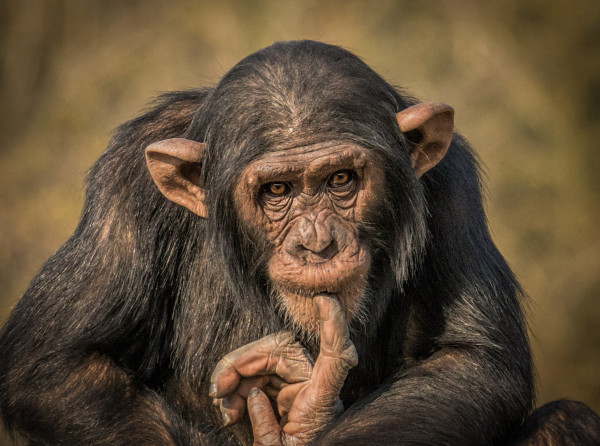 CHIMPANZEE - Lew Wasserstein  Shot at the Jane Goodall Chimpanzee Sanctuary outside Nelspruit, South Africa. The chimpanzees in this centre have all been rescued.  Some were kept in appalling conditions as pets, some used for medical research. Unlike some of the other Jane Goodall sanctuaries these chimpanzees cannot fend for themselves and cannot be released into the wild but are allowed to live out the rest of their lives, cared for, in a good habitat with lots of space.    The centre is funded by visitors.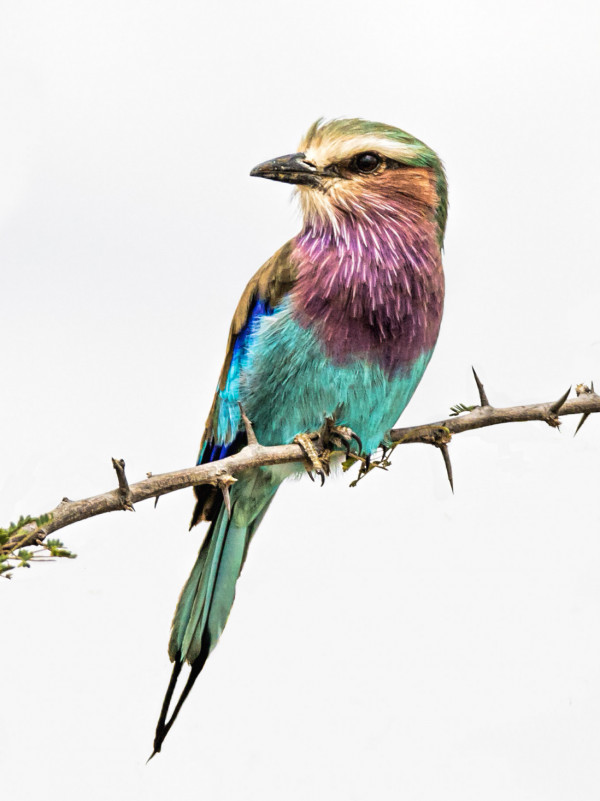 LILAC BREASTED ROLLER - Lew Wasserstein
These are a common sight in Southern & Eastern Africa but I'm always in awe of their beauty. This picture was taken in the Masai Mara reserve in Kenya.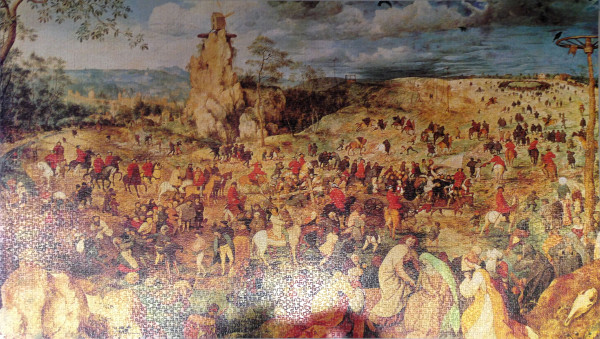 RECREATING THE CREATION - Derek Peters - 5,040 piece jigsaw

The picture is "The Procession to Calvary" painted by Pieter Bruegel in 1564. I assembled this jigsaw during the lockdown over a period of 101 days (an average of almost exactly 50 pieces per day!).
It strikes me that by completing it I was "re-creating" the creation of the Dutch master. From this it also occurs to me: that is what all human creation is about. Namely, using the materials and gifts that the Creator of All Things has provided for us.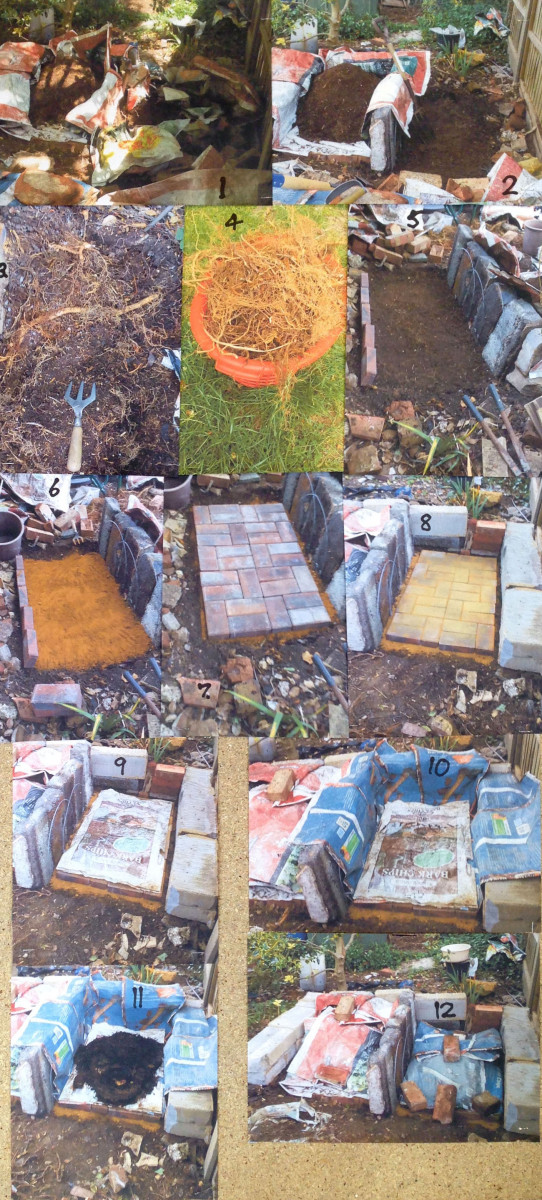 WHAT A LOAD OF RUBBISH! - Derek Peters
Reconstruction of my compost heap. During lockdown, I decided the time had come to prioritise making my compost heap work more efficiently. I devised a system of twin heaps alongside each other. Fresh compost went one side, and when it reached a certain height, I turned it over to the other side to let it 'mature', and started again on the original side. By a process of natural decomposition, and sterling work by a horde of earthworms, within a few months the now-matured compost was ready for spreading, and the 'fresh' stuff could be turned into its place.
Over the years, nearby trees and shrubs seized upon this rich source of nutrient, and invaded both heaps with an astonishing network of roots. My hope is that the more sophisticated structure I have now built will minimise this. All of the materials used came from existing surplus bits and pieces around my garden. God created nature to recycle all that becomes surplus, and I am happy to try to follow suit:
1    Old heap open - 'mature' compost on the left, 'fresh' on the right
2    Mature compost removed, fresh transferred in its place after mature section rebuilt
3    Fresh section showing 'invading' roots
4    Some of the removed roots
5    Looking from the far end: start of new fresh section
6    Looking from the far end: sand base
7    Looking from the far end: brick base on top of sand
8    Looking from the far end: side built
9    Completed fresh section with plastic sheet on base
10  Completed fresh section with plastic sheets all round
11  Completed fresh section with new compost
12  Completed new heap, both sides, with old and fresh compost covered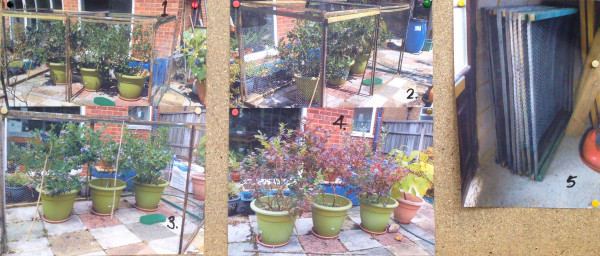 PROTECTING THE ENVIRONMENT - Derek Peters - Building a fruit cage   During lockdown, I am delighted to report that my garden is something of a haven for wildlife, although some species are more welcome than others. I put out bird food in containers designed to favour the birds (which are my particular favourites), but this attracts large numbers of them along with other hungry creatures. Consequently, the wide range of food plants I grow for human consumption, especially the variety of different fruits, is often ravaged by multitudes, including the inevitable invertebrates which also take a toll.
However, over the last few years, I have grown 3 blueberry bushes in pots on my patio. These have proved exceptionally popular with the marauders! Since the bushes showed signs of producing an exceptionally good crop this year, I felt that I was justified in trying to protect the berries from predators. I knew I had lots of bit of spare wood around the garden, and a quantity of surplus wire netting, plus some plastic netting which came from WRAP. The 8 panels were then tied to form the cage using plant tie wire, apart from the two front panels which were 'hinged' at the sides only, to form doors.
I do believe in protecting the wonderful environment the Lord has blessed us with, and on this occasion I felt justified in protecting a blueberry environment for the benefit of my family and me!
1    Cage after erection
2    Cage showing fruiting blueberries
3    Cage with front doors open
4    Blueberry bushes after crop picked and cages removed
5    Cages stacked in storage for next year!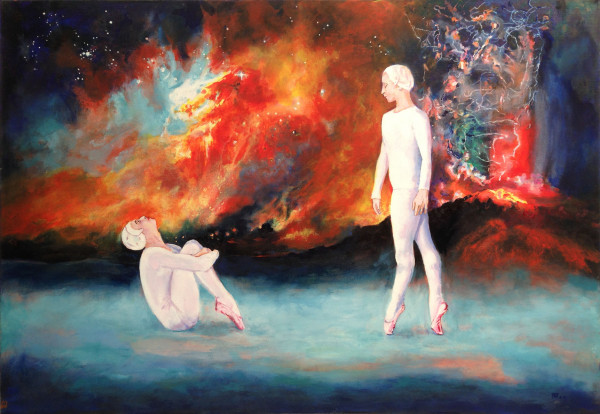 ODE - Mark Turner  
The two dancers look isolated in their cold personal space against a background of everlasting creation. I have been inspired to pull together a number of different photographic images to create this painting. 
The Russian ballet dancer Doubrovska and her partner come from a photo by Lipnitzky in a book that was published in 1920. 100 years later, I have taken this image and combined it with a photo taken by the Hubble space telescope and a photo called 'The electric Volcano' taken by the Chilean photographer, Francisco Negroni of Calbuco, an erupting volcano.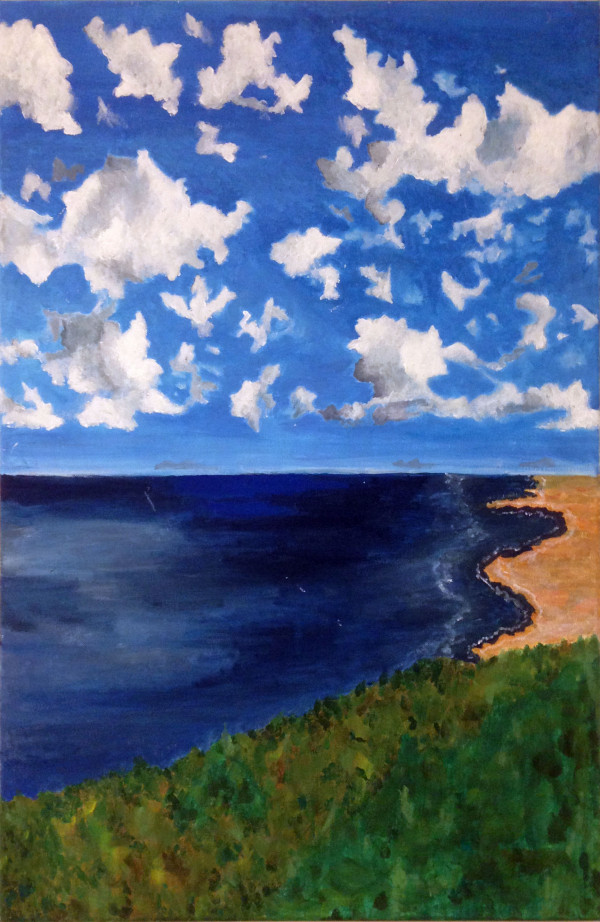 BAMBURGH - Amie Crane
For me - music usually brings me peace, but I felt a stronger presence of God while in Bamburgh. I found the landscape to be a good representation of the wonders of God's creation. I removed the people and the castle as I just wanted to focus on the natural landscape untouched. Clouds have always been interesting and an inspiration for me. So I wanted to highlight them while painting. My faith may not be as strong and present as others but I wanted to contribute and show what speaks to me about God.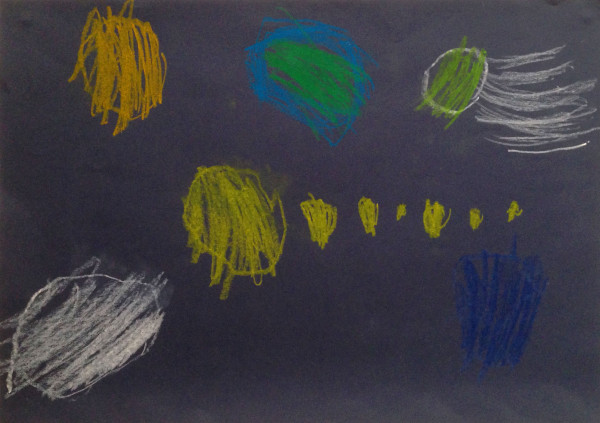 NIGHT SKY - Jonathan Eaton

I drew stars and planets and the sun. I like the world. I like looking at stars and the moon, although I can't see them very well (in the daytime). I also like polar bears.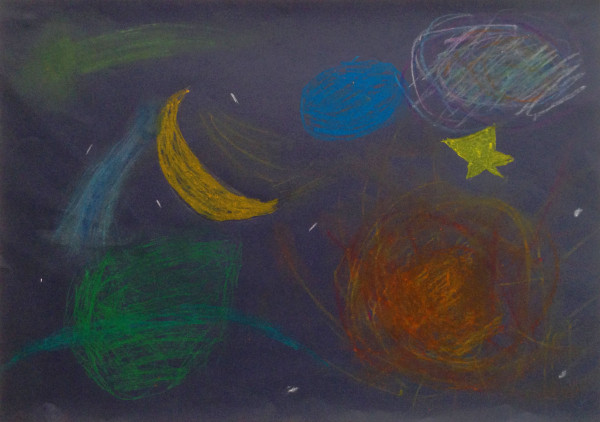 THE FOURTH DAY - Deborah Eaton
These are some of the things God made on day 4 of creation. I drew the sun and the moon, stars, planets, galaxies and a shooting star. God made all of them. I think God is amazing.

A PEMBROKESHIRE COAST PANORAMA - Phil Davies

Over the years my family and I have enjoyed many wonderful holidays on the edge of the North Pembrokeshire coast near St Dogmaels. We stay in a cottage on a dairy farm with access to the Pembrokeshire Coast Path. I love the juxtaposition of the land and sea, a very different environment from suburban London. Being on a farm we are reminded of the source of our food which ultimately comes from God. We see the beauty of God's creation in the dramatic cliff formations, the fantastic sunsets across the western sea, the abundance of wildlife including the sea birds and grey seals, and some clear starry nights. It is a fantastic place for a holiday, far from the madding crowd, an opportunity to remember that on the seventh day God rested from his creation.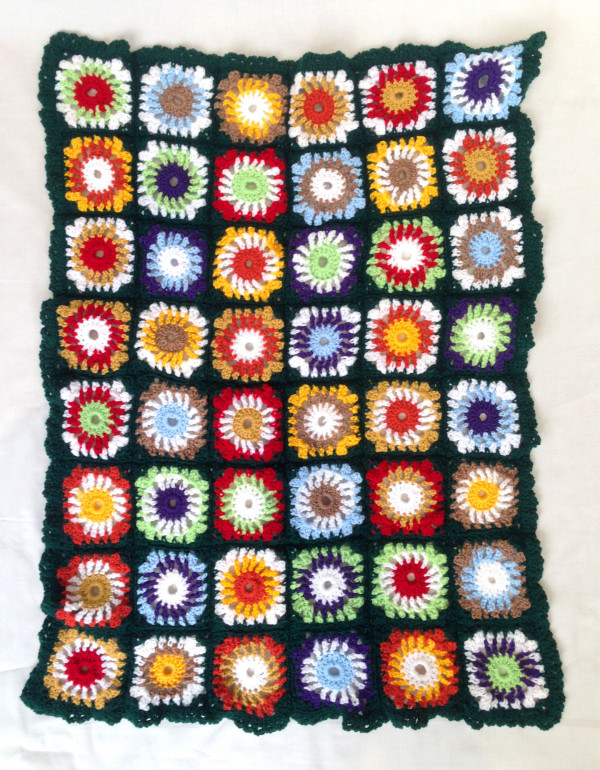 BLANKET - Roxana Peters
Our second grandchild is due at the end of December and having made a pram blanket for our granddaughter using the well-known American square I have adapted the Arcade design for this one.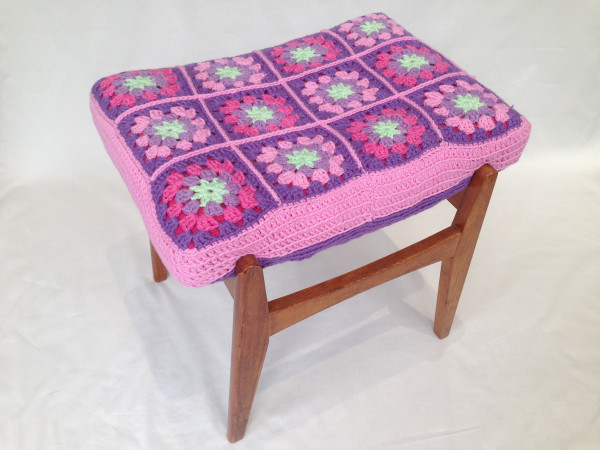 STOOL RECOVERED - Emma Hounsome

I made this cover in lockdown. This stool is from the 60s and originally was in my parent's house and I thought it needed updating. . I love crocheting and find it calming. You can do a little at a time and it is very portable.  I used Ravelry and Pinterest sites to find Inspiration for my project.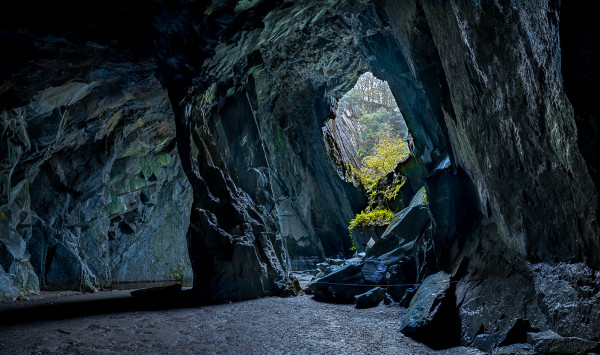 THE EMPTY TOMB - Ray Staff
Taken at Cathedral Cave in Cumbria. I chose the location because the weather was very wet outside. Due to the massive difference between light and dark the image was made using the HDR technique taking 3 identical pictures at different exposure values. The images are then blended in Lightroom to produce a shot that resembles the way we would see it.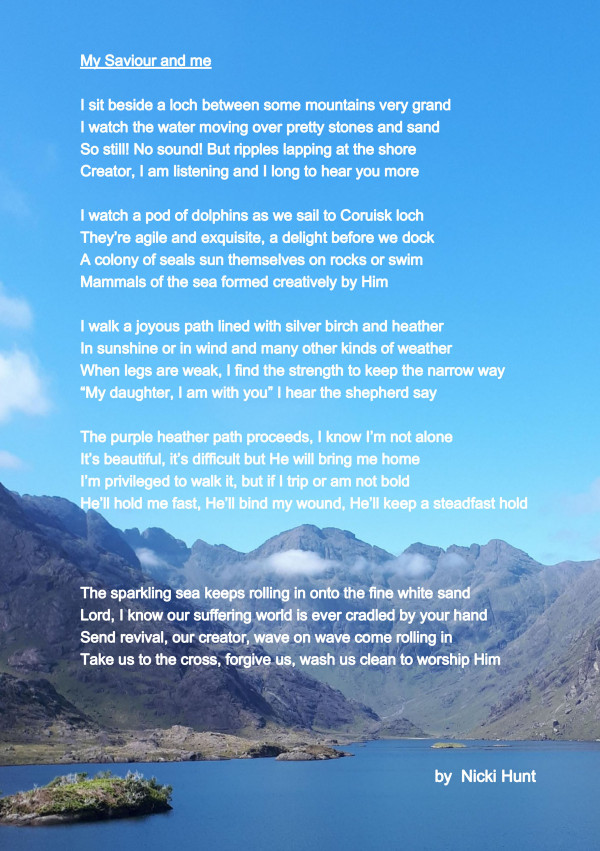 MY SAVIOUR AND ME - Nicki Hunt 
During our summer holiday this year on the Isle of Skye the exquisite scenery inspired me to write this poem.  I sensed God speaking to me in the silence of the loch that you can see in the photograph.  He spoke as I watched the waves rolling onto the beach and as I bounced along over the peaty ground and walked along heather lined paths.  God speaks to us loud and clear, both as a community and in a personal way in the Bible upon which the messages I heard are based. He whispers His love to me when I am at home and at work and has spoken to me through my friends at Fairfield over all the years. Thank you, Jesus, for dying in my place to bring me so close to the Father, that I can hear His still small voice.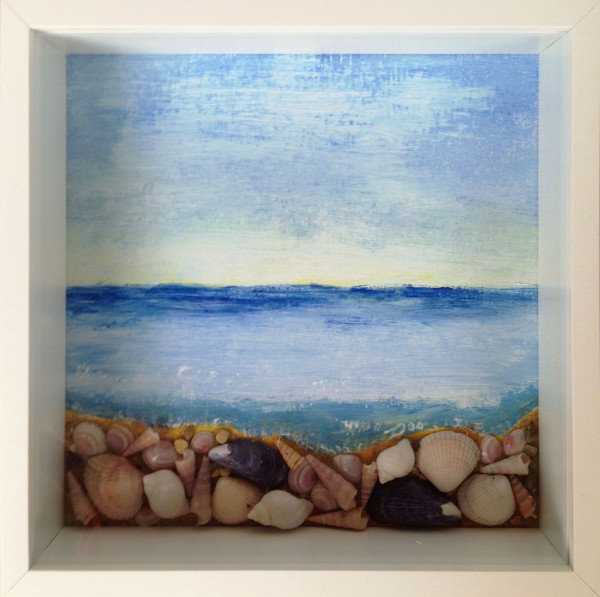 BESIDE THE SEASIDE - Rosemary Hunt 

Made with acrylic paint and shells collected from British beaches, the piece depicts a calm evening sea in British summertime. From the remote islands of the Outer Hebrides, to those of the Isles of Scilly, the beauty in creation is ever present. 
I feel peace when I am scrambling up mountains
In his hand are the depths of the earth, and the mountain peaks belong to him  Psalm 95:4
and when I am open water swimming, You rule over the surging sea; when its waves mount up, you still them  Psalm 89:9
and peace when phone signal is replaced by stunning scenery. The Lord is my shepherd, I lack nothing. He makes me lie down in green pastures, he leads me beside quiet waters, he refreshes my soul  Psalm 23:1-3a
I am in awe of God's handiwork. Praise the Lord  Psalm 150:1

BE STILL - Martin Wilson

I balanced these stones on 4th September 2020 - the day after my mother died. I wasn't really thinking of anything while I worked. It was just me, the sky, the sinking sun, the sea and the stones.
When I finally had two stones balanced the words came to me: 'Be still'. It was only later that I looked up Psalm 46: God is our refuge and strength, an ever-present help in trouble. Therefore we will not fear, though the earth give way and the mountains fall into the heart of the sea, though its waters roar and foam and the mountains quake with their surging.
...He says, "Be still, and know that I am God..."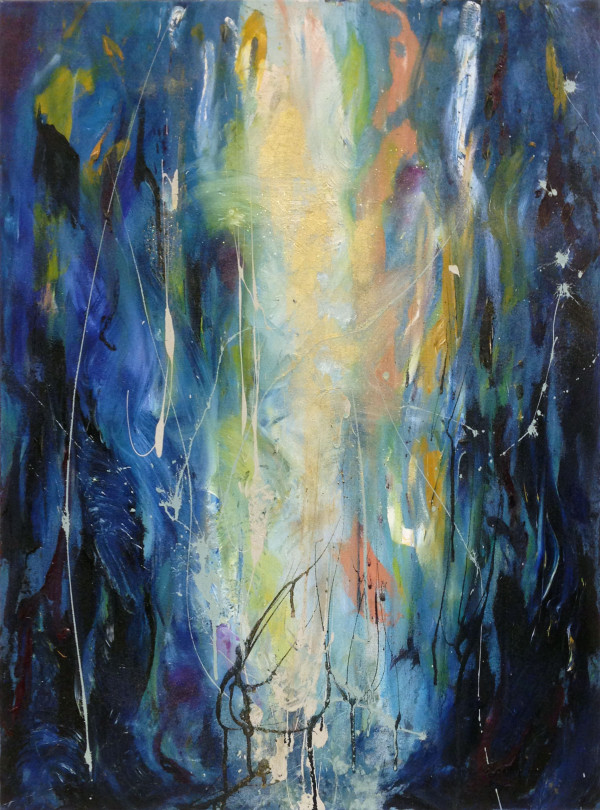 WORSHIP - Victoria Culf   Mixed media on Canvas. 2012
This piece started life as one thing, and ended up another. It's a celebration of the innate Creator within us. Once we relinquish control, beauty emerges. It may not look as we'd expect, but its still something to be celebrated. If we are made in His image, then His glory is there, waiting to be released.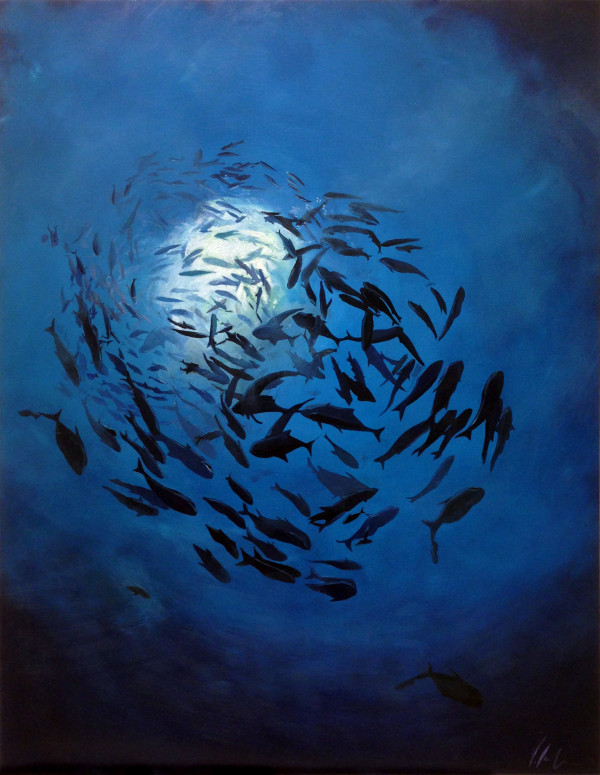 DEEP BLUE SEA - Victoria Culf   Oil on Canvas. 2008  I painted this piece after the passing of my favourite grandmother. It was part of a series of works exploring life after death and our intrinsic relationship to the natural world. I felt it was fitting to include in this exhibition to honour those who have lost loved ones due to the Covid Pandemic.   
My nan was a marvellous woman, always thinking of others. It was hard to see her frailty and loss of autonomy in her later years which she seemed almost ashamed of. I remember her being embarrassed living in supported accommodation and needing the help of carers. She didn't want me to see her being helped to the toilet, something we all need as a child and some of us need in our later years.
At 14 she became the matriarch of her family after the passing of her mother and left school to do so. Her father later remarried but stepmother too passed away leaving another young child to be cared for. With an abusive father, several of the siblings moved from Yorkshire to Enfield to be near my nan, who took her youngest brother into her own home. 
She'd survived the letter that my grandad was missing, presumed dead, during the 2nd World War and managed to navigate the repair of their relationship when he returned after 
2 years in a Turkish concentration camp. She lost him at 60 to lung cancer and never wed again.
I'd come to faith in later life, after a long courtship by our Father. I'm sure my grandmother (an active Christian) prayed for me often. As a child I'd stay with her during school holidays to 'give my mum a break' and she'd traipse me round Enfield town to all her 'old dears' living in and out of nursing homes. She ran her own catering business, was an active member of the Women's guild and drama society, always had visits from the neighbours; there's so many things I wished I'd recorded, like how she made her Yorkshire puddings. It's funny what you miss. And regret.
And God? And God. 
When my father called me to say that Nan had finally passed away I felt guilty because the first thing I felt was joy. I can't explain it, but it was like I could hear singing. There was no one in the house, or outside and the TV wasn't on. I had a strange thought, not my own voice, that "She's Home". I was relieved, her suffering was over. At 93 she told me she was tired. She could be Joyce again. Cocky, chatty, exuberant Joyce. I wanted to cry, but the tears didn't really come until later. 
...lifetime is just a moment to you, at best, each of us is just a breath. We are merely moving shadows, and all of our busy rushing ends in nothing. Psalm 39.5 NLT
I think we all pant like the deer for deeper waters to quench our thirst for understanding. And, like these fish, circle toward enlightenment.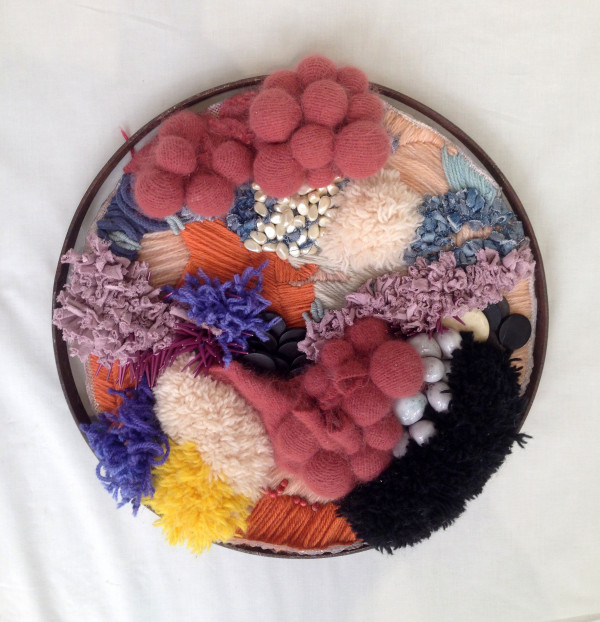 OCEAN FLOOR - Victoria Culf    Textile work incorporating various traditional rug making techniques, beading and some embroidery. Natural and recycled materials. 2020
This work part of an ongoing series of textile pieces celebrating the environment God gave us and our symbiotic relationship to it. As an environment artist, I am keen to promote the preservation of nature and the need to act on it's behalf. "As all creation cries out for restoration" I know recycling isn't enough. There's enough plastic in the world to suffocate it twice over and with rising tides our air quality will eventually diminish our existence.
When you look at the beauty and minute detail of every plant, creature and coral you can't help but be awed at the designer, who created everything to live harmoniously.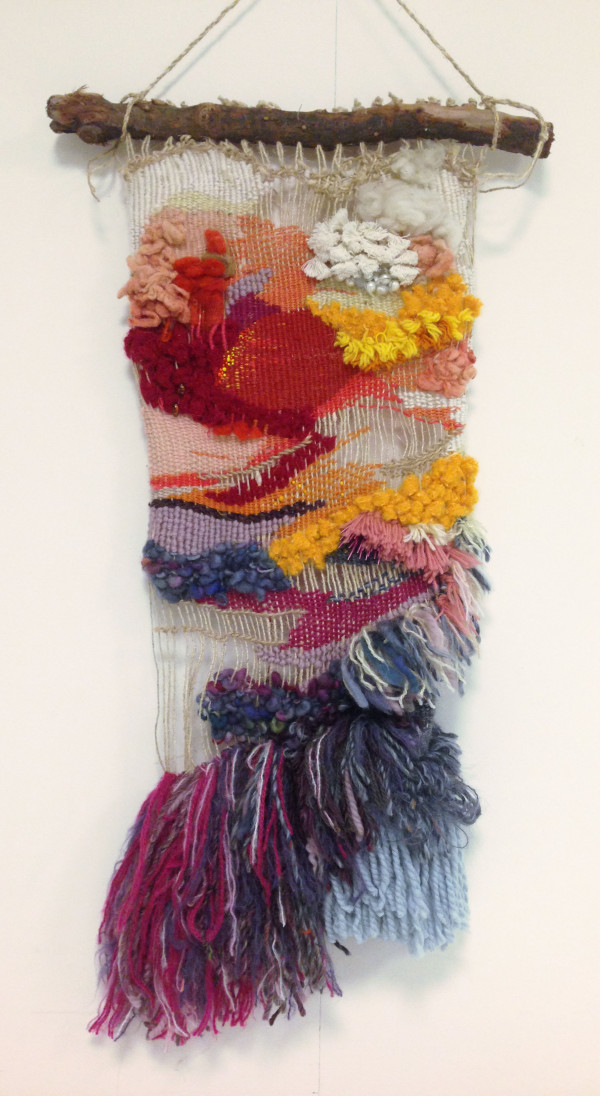 THIS IS HOW I FIGHT MY BATTLES - Victoria Culf

Loom woven tapestry using natural and recycled materials. 2020.
My friend uses this quote a lot: "Be kind for everyone you meet is fighting a hard battle". My battle for many seasons has been the battle for my mind. I have learnt, over the years, that beauty and creativity are my weapons of choice and a natural gift set. A recent scientific study proved that 45 minutes of an art activity seriously reduced the stress hormone cortisol in over 75% of participants. Cortisol is a hormone found in humans and animals alike to create a 'fight or flight' response in dangerous situations. Usually these responses are generated when under extreme duress, like a life or death scenario. The trouble is, we in the West, for the most part, live in relative peace and security. There's no reason to be as stressed out as we are. Yet too much Cortisol literally blocks your synapses from making positive connections, hindering capable thought. Long term, this can lead to anxiety and depression. 
In uncertain times it makes sense that the Creator of the Heavens gave us the means to focus on beauty, slow down the inner dialogue and make space to hear Him. I see my art making as a form of worship. I invite Him into the entire process and view the finished works as collaborations with the Holy Spirit.
…brothers, whatever is true, whatever is noble, whatever is right, whatever is pure, whatever is lovely, whatever is admirable -if anything is excellent of praiseworthy – think about such things. Philippians 4 V 8 NIV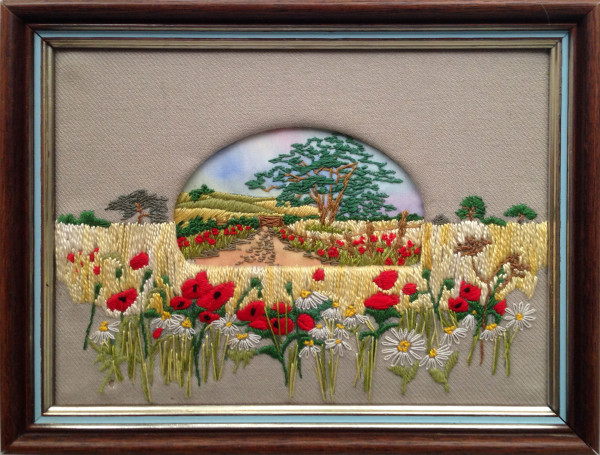 POPPIES - Chris Pearson
Poppies grew in the fields where so many men died in the war, bringing new life to the fields. They are bright but delicate flowers that stand out wherever they grow. This tapestry reminds me that Jesus loves us. He gives us new life and strength to face each day so we can stand out for him.
Look at the flowers and how they grow. They don't work or make their clothing, yet Solomon in all his glory was not dressed as beautifully as they are. And if God cares so wonderfully for flowers that are here today and thrown into the fire tomorrow, he will certainly care 
for you.  Luke 12: 27–28

TAPESTRY - Nicki Hunt
I purchased the kit to make this tapestry at a sewing shop in Cape Town in the 1980s. Much of it was sewn whilst travelling with Sandra in the Land Cruiser on long journeys in which we shared the driving. 
I have always liked the shades of green in the picture, which seem restful, and Mountain streams continue to fascinate me as the clear, flowing water sparkles in the sunlight.  
God's creativity and attention to detail is proof of his existence.  I am so grateful to our heavenly Father for the beauty that he so carefully planned and made. 
The Bible says, "For the Lord your God is bringing you into a good land- a land with streams and pools of water, with springs flowing in the valleys and hills…".  
Yes, Jesus brings us into the Kingdom of God and into an eternal and abundant life which can begin today; we only have to ask Him.
AMPLIFIERS - Nick Horgan
These photos were chosen to emphasise the variety of flowers in God's creation – variety in colour, shape, and geometric patterning, and what you can only imagine from these photos is the texture, the smell, and in some cases the taste (mmm courgette flowers). Even the edges of the petals have their own design. 
Sometimes I think I catch these flowers pulsing, like loud speakers, amplifying the presence of their creator. And the rose, does it remind you of a whirlpool? or a black hole? Why does the Calendola have so many layers? And the Helianthus, does it hint at a star made of feathers? What causes the pattern of colour splashed across the Dianthus?
Thank God that he made us to find such things fascinating, beautiful and uplifting.
Rose/Calendola
Helianthus/Dianthus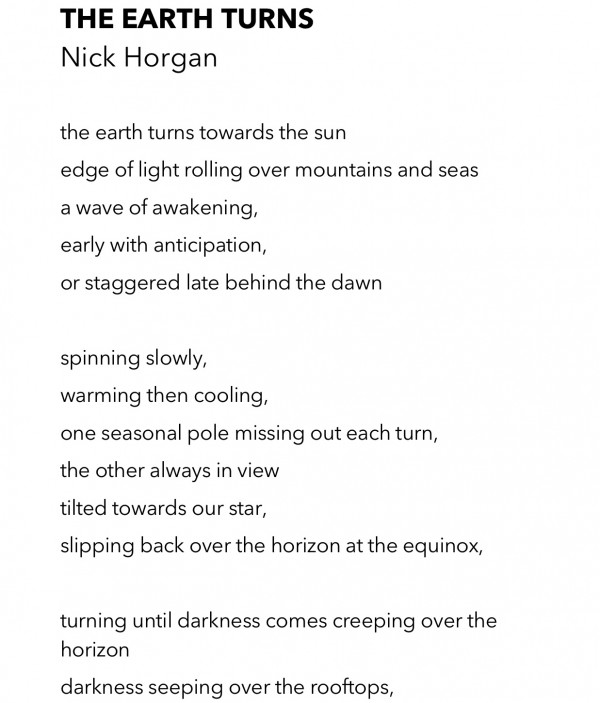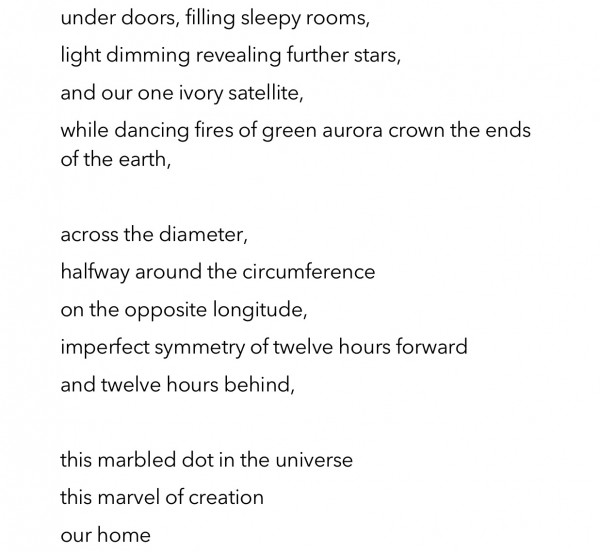 THE EARTH TURNS - Nick Horgan

This was inspired by the awe-inspiring photographs of the earth we have, taken from space, the God's-eye-view that we've only had for 74 years out of mankind's history (24th October 1946 first photo from space for trivia fans). There's also the circulation of air, the currents of the oceans, the migrations of species. It's a beautiful eco-system filled with landscapes, plants, and living creatures of such variety - we have an intensely creative God, who designed us to enjoy his creations.
And as we are made in his image, so he made us to be creative too. 
ZOOMING IN - Nick Horgan

This set of photos were chosen to emphasise the minute detail and design and complexity that you find as you zoom in closer. Even while God sees the whole planet as we do from space, he also sees the tiniest details of his creation - what looks like golden scales on a button at the centre of the Japanese Anemone, the explosive colours of the Dahlias, the finely torn paper petals at the centre of the Peony.
Our God is the God of creation, and the human race was chosen to cultivate and protect this earth, and to stand up to those who exploit, pollute and drive out the variety and complexity he has blessed us with. 
Dahlia/Anemone
Peony/Dahlia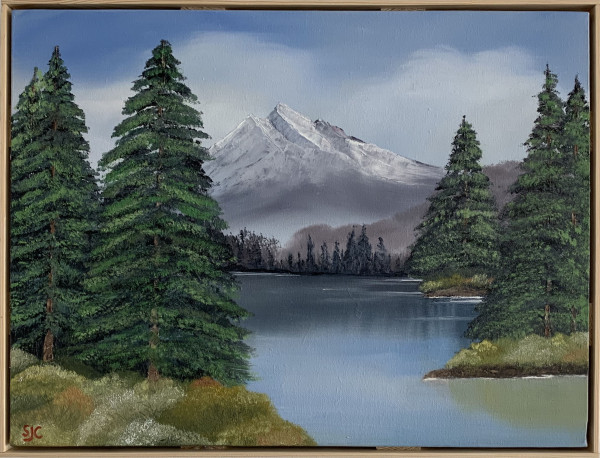 DISTANT MOUNTAIN - Sue Carey - Self-Challenge: Oil Painting, wet on wet technique
I was giving the technique of another artist (Bob Ross – you've seen him on TV?) a try when I painted this. What I noticed when I painted the foreground fir trees (using a large fat three-inch brush like a painter & decorator!) was the way in which this immediately made the mountain I'd painted first (after painting the sky, that is) recede into the background. My picture instantly had depth, and the mountain a sense of distance.
It's not rocket science. Whatever is in the foreground is the very thing that makes the background recede. And so it's a simple question: 'Who or what is in the foreground of my life right now? And who or what is being pushed into the distance?'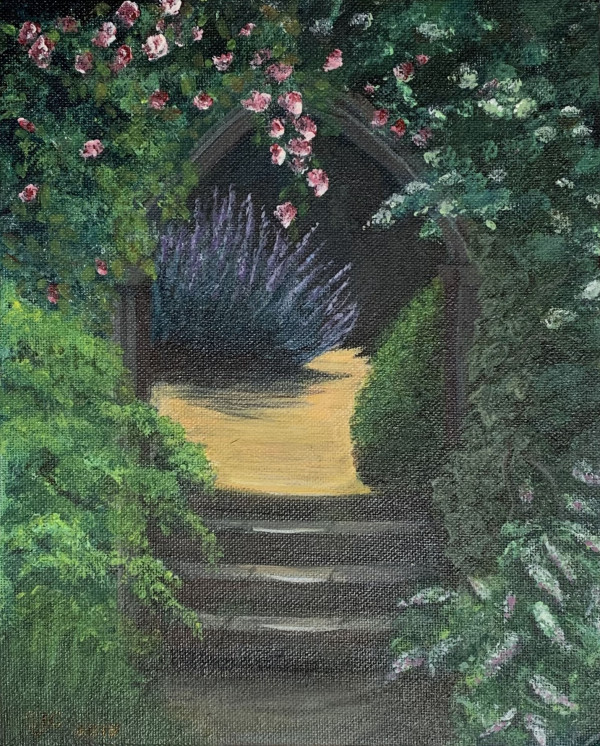 ACROSS THE THRESHOLD - Sue Carey  (The threshold was a log or length of wood placed in the entranceway of the peasant's hut or accommodation provided by the landlord.)
I have heard it said that to come into the presence of the Lord each day we must first get across the threshold.  This picture reminds me of just that. God's child must daily leave her peasant's hut and step up across the threshold into his beautiful, sun-kissed garden, where everything is renewed, season by season. 
Lingering in the shadows at the bottom of the threshold (four steps in my painting), it is easy to glimpse through the garden's doorway to the sunlight illuminating everything around. Light even plays a little on the small steps which must be climbed to enter in. But Alas! All too often, the twin impediments of busy-ness and self-reliance bring a strange reluctance for this wretched yet beloved child to skip up those steps!  Oh, she may just run in and out again quickly, hoping to please the gardener, but she takes in little of what is there. Even more grievously, and to her present and eternal loss, she will often walk right past the steps without ascending, busying herself in the shadows, unaware of the beauty, glory and unimaginable delight of the garden which is just outside her peasant's hut.  No, she will tread heavily through another day of little light and little warmth, and whether faintly or strongly unsettled, she will despise once again that her hut is so dismal. 
And the gardener? He has planted it all for her!  He is sadly, but patiently waiting for the day when she will come in for long enough to show her the sheer delights of all he has tended. For once she has really seen it, she will visit more and more to drink deeply of the beauty of both garden & gardener and her spirit will learn to settle to live more contentedly in her shabby hut so close to the garden. 
One day, so tells the gardener, she will leave her peasant's hut behind forever, to live in the garden mansion he is preparing for her even now… 
Until then, she now knows she must use every means available to her to cross the threshold as often as she can, for this is how she has now learned to live with hope and peace and joy in her peasants hut. 
Prayer:  Lord help me to make it across the threshold into your light every single day.  
Your Word is a lamp unto my feet and a light unto my path   Psalm 119:105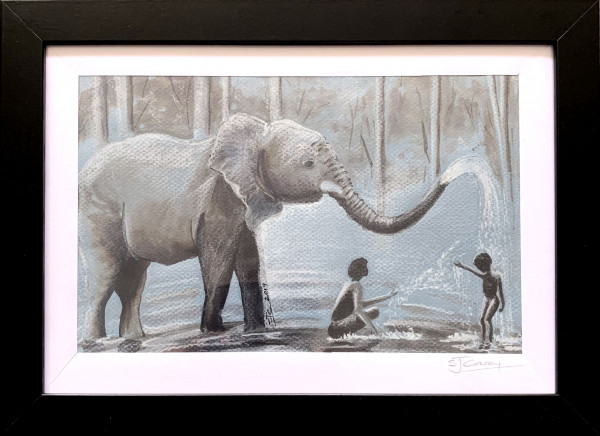 PLAYING WITH AN ELEPHANT - Sue Carey
Art Class Task:  Soluble ink and white pastel on 
pastel paper
 'He gave us all things richly to enjoy!' 1 Timothy 6:17
And who wouldn't love to do this?!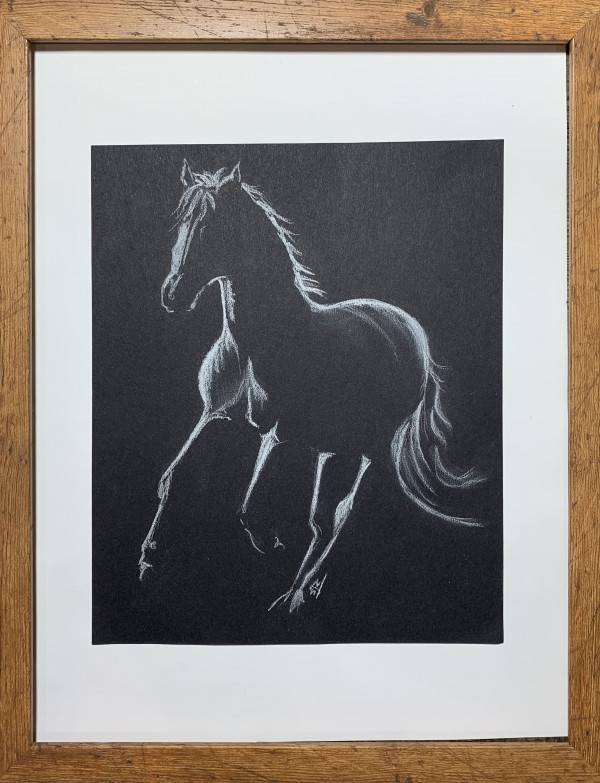 THE HORSE - Sue Carey    Are we speaking like wild horses? Horses are such beautiful, useful animals, but they need breaking in!
We all stumble in many ways. Anyone who is never at fault in what they say is perfect, able to keep their whole body in check. When we put bits into the mouths of horses to make them obey us, we can turn the whole animal. Likewise, the tongue is a small part of the body, but… consider what a great forest is set on fire by a small spark! James 3:5
Do not be like the horse or the mule which have no understanding but must be controlled by bit and bridle or they will not come to you 
Proverbs 32:9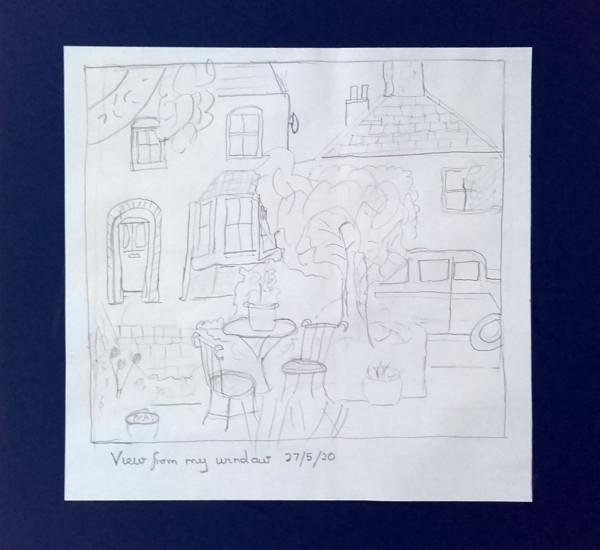 THE VIEW FROM MY WINDOW - Melanie Harcourt
I never draw! Even when I was a child it was not my thing. But in lockdown I was inspired to draw the view from my window. I decided I would just go for it and sit down with a pencil and paper and draw for 30 minutes. This is the result.
There is always something coming into being in a garden; it changes every day. It's re-assuring that, while our lives are so restricted, the natural world continues as normal; a reminder that our faithful God is the same yesterday, today and tomorrow. It's a reminder too that we are created by God to be creative. During lockdown I have enjoyed being out here pottering, surrounded by the colour and perfume of the plants. People come by and often stop to chat, and I have got to know new neighbours. I am very grateful to the Lord for my garden